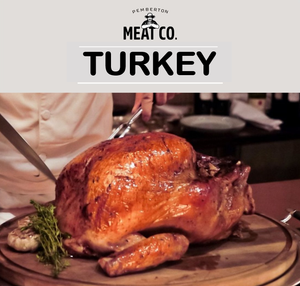 RESERVE YOUR TURKEY TODAY! 
PMC farm has been lovingly raising Turkeys. Average weight is 12-20lbs and cost will be $8 per lb.  All Turkeys are frozen, please be prepared to pick up after ordering. 
A $25.00 Deposit will be paid today, the remaining amount will be paid during pick up at the farm (pick up will be Wednesday December 21 from 3-5pm)
The high demand speaks to the superior flavor of our delicious birds. Our Turkeys have been selling out weeks before the Holidays, if you're late to the game, we always have other options for Holiday meals like Lamb or Ham.